Ronaldo has returned to Manchester United, to the Premier League and the English tabloids have already revealed an infidelity to Georgina Rodríguez with Natacha Rodrigues for two months before sleeping with her, shortly after meeting her partner Georgina Rodríguez , 27 years old. Speaking to The Sun on Sunday, he said: "Cristiano dropped me and I could do the same with Georgina."
"Cristiano would be a great match for anyone and Georgina must keep an eye on him if she wants there to be trust between them and a future for them", says Natacha.
Natacha says Ronaldo sent her racy text messages years ago praising her "beautiful" butt, asking her to "see it in the flesh" and handing her a baseball cap the night of their meeting before sending her a text. message: "Top secret, please."
She says that Ronaldo first contacted her in 2015, when he was single after breaking up with the Russian model Irina Shayk. Natacha sent him a snapshot of her butt on Instagram of her with the words "Huge kiss". "It was 1 in the morning and I did it as a joke. I never thought you would answer me. But at 6 in the morning he sent me a message and things went further. Looking back, I wish I hadn't," he says.
"There will always be a before and after in my life with Cristiano and the feeling that there could have been something more for us, even if we didn't end up dating," he insists.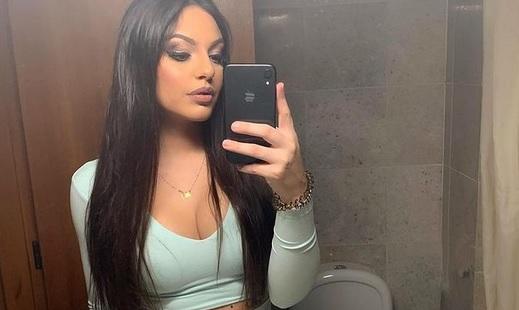 It got worse, of course: "When I sent him a video of me twerking in my underwear when he said he wanted to see me in person. Cristiano always made it clear that he liked my body. He told me that he loved my butt and that he wanted to see it personally.
Ronaldo asked her how old she was. 21: "Great: brand new and with a good body."
Ronaldo allegedly invited Natacha to his apartment in Lisbon on October 5, 2016, and later sent her a message: "Esse cuzinho", which translates as: "This cuzinho". But he canceled at the last moment, saying that he only had an hour free and that he wanted to be with her more time.
But Natacha says he asked her to send him more risqué photos, adding: "Send me a twerk, don't forget." Natacha sent him another photo of her butt and says Ronaldo texted back saying: "Don't be ashamed. I love kissing ass."
And they stayed, he gave him the four-digit security code for his apartment "My heart was racing, but he was very nice and sweet and told me to act like I was at home. I kicked off my shoes and poured myself a juice before sitting down next to him. We talked about his apartment and where I was from. So I took the initiative, stood up, dropped my pants and bent down to show him my butt. He slapped me and told me he loved it."
Natacha, who has become known in her Portuguese homeland by appearing on a reality show called Love On Top, told The Sun that in March 2017 they had "anywhere but Cristiano's bedroom" of her apartment overlooking the main boulevard of Lisbon, Avenida da Liberdade.
Then he texted her: "I've enjoyed it. We will meet again one day." Top secret please. Kisses". However, soon after, he blocked her calls and stopped all contact on social media.
His girlfriend Georgina gave birth to their daughter Alana Martina on November 12, 2017.