Mara Calabuig
When the mayor of Valencia 'in person' attends an inauguration, it is an unequivocal sign that it is something special.It is, in effect, the first store that opens in our city -cande Salvatierra, 35- the firm 'Lester', which already has seven or eight, most in Madrid, in addition to several 'corners' in El Corte Inglés.
Let's start with its euphonic name.According to the founder, Carlos Satrústegui, undoubted.Personally I also like to associate it with the formidable saxophonist Lester Young, a great figure of jazz, who also had a reputation as an elegant man.Because that is about 'Lester': from a male elegance based on classic molds, although seen with contemporary approach.
Satrústegui reveals that he left without experience in the sector, abandoning other activities, taken from his predilection for the ties."Twenty years ago," he says, "there was little large -class corbdería in Spain, beyond high -end brands and high prices".Determined to cover a more affordable hole without lowering the level, he went to Italy, discovered factories in as - employee of the sedition - to do what he intended, and so everything began, towards 1992.Since then 'Lester' has not ceased to grow and expand, adding successively accessories, to cover a complete offer for that current man who seeks a wardrobe as far from eccentricity as of routine models.With more than convincing prices.
In its one hundred meters of public attention surface (as many warehouse), the Valencian store provides a landscape of noble woods, beautiful lamps, French engravings of the XVII, and details with equestrian and sports reminiscences: a splendid chair set in itschest, handmade horses, tennis rackets.Shelves and tables overflow with chosen garments: sutters and puppy scarves, matching shirts, pants and sartorial cutting suits, unique belts, very careful inside.And, of course, hundreds of ties that are often personalized orders for gifts from companies or groups of various kinds.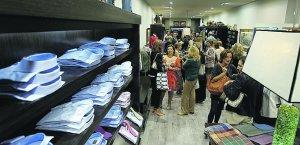 Logically, the opening attracted a male audience of good taste and excellent critical eye.Entrepreneurs, intellectuals, athletes, students;All ages and professions.There coincided Alberto Catalá, Pablo Serratosa, Carlos Pascual, Luis Alonso Stuyck, Barón de Almiserach, Juan Piquer, Enrique Lucas, Alfredo and José Luis Quesada, Juan Soler and son, José Antonio Prat, Count of Berbede, Pedro Catalán, José María Beneyto, Vicente Quilis, Juan Cámara and the artist Vicente Colom, whose touch in the decoration of the establishment is unmistakable.
There were also well -known couples, such as the Marquises of Amposta, Sonia and Juan Valero de Palma, Mimí and Fernando Puigmoltó, Gonzalo Fernández de Córdoba and Asunta Centant.And a female representation of course.Rita Barberá joined Ángeles Font de Mora, Pilar Trénor Suárez de Lezo, Isabel Clara Stuyck, María Garrigues Trénor, Marita Ochoa, Adeli Alonso Manglano, Cachita Gómez Trénor, Carmen Topete, Countess of Altea, Pilar Manglano, Maití Moróder, Ana Larios, Esther Barrera, Marta and Verónica Manglano, María Ruiz Mateos, Marta Maillo, Macarena and Miriam Alegre Alonso...Anyway: the flower and cream.And it is that in 'Lester' there is also a female corner, where those who are going to buy clothes for their husbands or children can choose for themselves an out -of -standing gloves or exquisite 'foulards'.
Soul of the initiative are two lovely women: Magüy Alonso Stuyck and Pilar Díez de Rivera Devesa.And at the foot of the store, a great expert like Curra Barona, accompanied by Carolina Rosales.
Tendencias